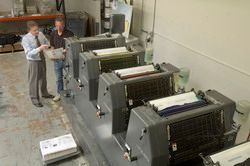 We love what we do. The passion we have for our work enables us to take ownership of our clients' projects. We constantly strive to deliver the highest-quality products possible.
There is no greater satisfaction than delivering a quality finished product that helps a client reach their goals and objectives. To learn more about our approach to customer service, follow the provided links for more information.
Our Mission And Promise To You
Our mission is to be a profitable company with a caring work environment for our employees. We'll work hard to provide high-quality printed products and graphic services to deserving clients in a timely manner.
We strive to find and serve clients who appreciate a long-term relationship with a printing services partner. We will justify that trust and respect with consistent, accurate and competitive over-achievement.
Guiding Principles
PrintCom, Inc, in Van Nuys, CA., has served the business community with quality printing and graphics service and great employees since 1990.
The PrintCom family of businesses include Minuteman Press which specializes in quick printing and copying, and MMP Printing & Digital Graphics which services commercial printing needs. Sister company MMP Direct handles direct mail marketing and production.
Due to rapid growth, we have moved multiple times, from our original 800 sq. ft. location in a Panorama City strip mall to our current 13,000 sq. ft. facility in Van Nuys, CA. Our 18+ highly professional employees produce over 8,000 printing and direct mail projects annually, generating over $3 million in sales.
We are active in the local community, and are members of multiple Chambers of Commerce and many Trade and Professional organizations. Our President, Pamela Berg, is a Past President of the Mid-Valley Chamber of Commerce, and on the boards of several San Fernando Valley non-profit organizations.
Our professional associations include membership in PrintImage International and Printing Industries Association, and we are authorized Adobe Services and Microsoft Publisher Services Providers.
Our business focus is to build relationships with clients who require a partnership with their printing services provider. We reward that trust from our customers with service that allows them the confidence of knowing that we will always be there to take care of their needs and "watch their backs" for them. As printing professionals, we feel obligated to take more than the normal level of responsibility to see that their projects are quickly and efficiently, and that we are guiding clients through the process, not just doing a printing job.
We invite you to visit our facility at any time. We love to provide tours, information, and samples or references from our over 1200 clients.
We are independantly owned, and one of the top ten largest franchised businesses in the Minuteman Press International system, with over 900 units worldwide.
Thank you for visiting our site!