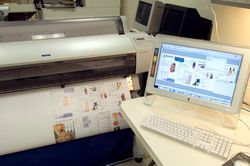 The proofing process is very important. One tiny error or omission can ruin an entire project. We go to great lengths to proof every job for accuracy.
However, it's important that our clients have a hand in the proofing process. You are ultimately responsible for reviewing and approving the proofs, and are the final judge.
We use soft-proofing in PDF format for use with on-line viewing and approval, but we also may require a hard-copy proof sign-off for more critical work.
To enjoy the convenience of our online proofing program, please contact us for a simple one-time set-up process and get started today!